UP4GreenConcrete NEWS
Erasmus+ KA2 project Upskill Professional
FOR Sustainable renovation plans of CONCRETE buildings
UP4GreenConcrete NEWSLETTER: MAY 2023 ISSUE
Read it HERE!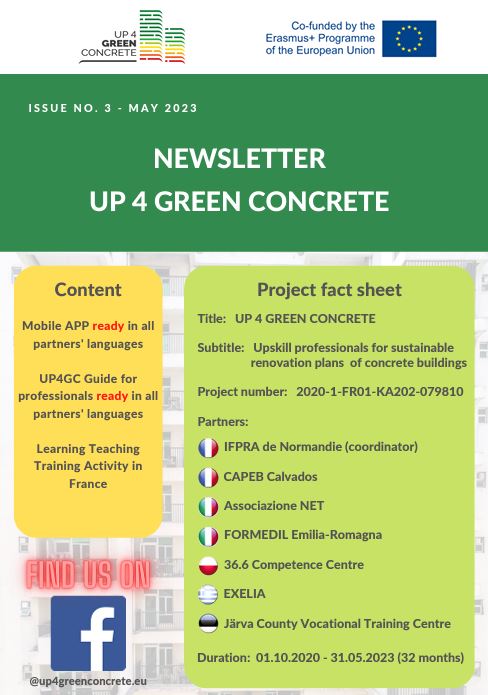 UP4GreenConcrete NEWSLETTER: JULY 2022 ISSUE
Read it HERE!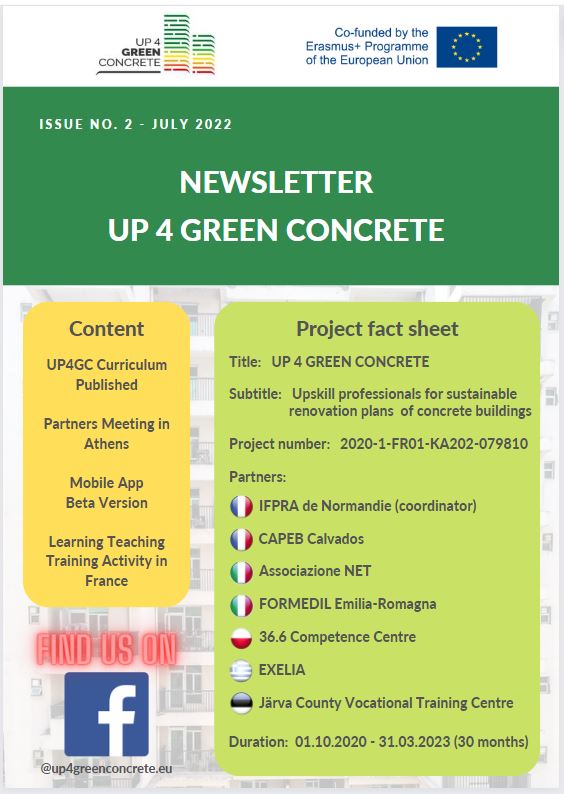 ***
The 4th Transnational Meeting of the #UP4GreenConcrete project took place on the 7th-8th of June in Athens, hosted by Exelia.

The European project #UP4GreenConcrete aims to provide professionals and future professionals in the field of building and renovation with educational materials and tools to conduct building-specific analysis.
The partners discussed the development of the Mobile App, soon be available to the public for Android and IOs.
The consortium also did a study tour at the Stavros Niarchos Foundation to learn more about green buildings, sustainable construction and energy efficiency.
The #UP4GreenConcrete consortium was represented by EXELIA, together with IFPRA Normandie, Associazione NET, Järvamaa Kutsehariduskeskus, CAPEB, 36.6 Competence Centre and FORMEDIL.

Stay tuned for more updates!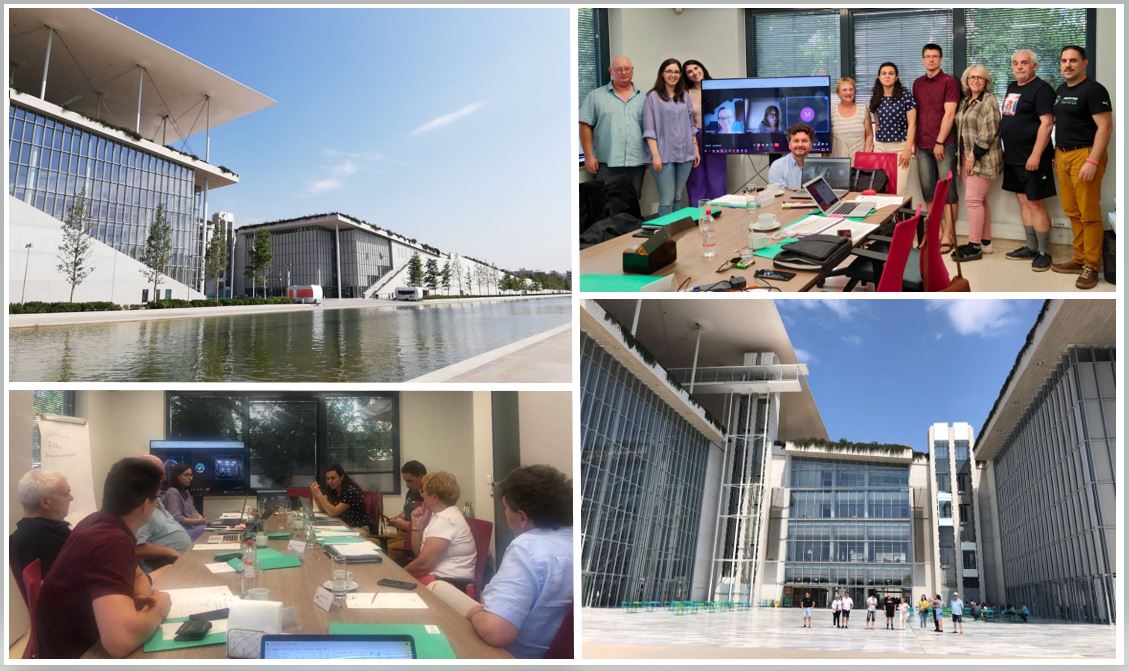 ***
UP4GreenConcrete NEWSLETTER: DECEMBER 2021 ISSUE
Read it HERE!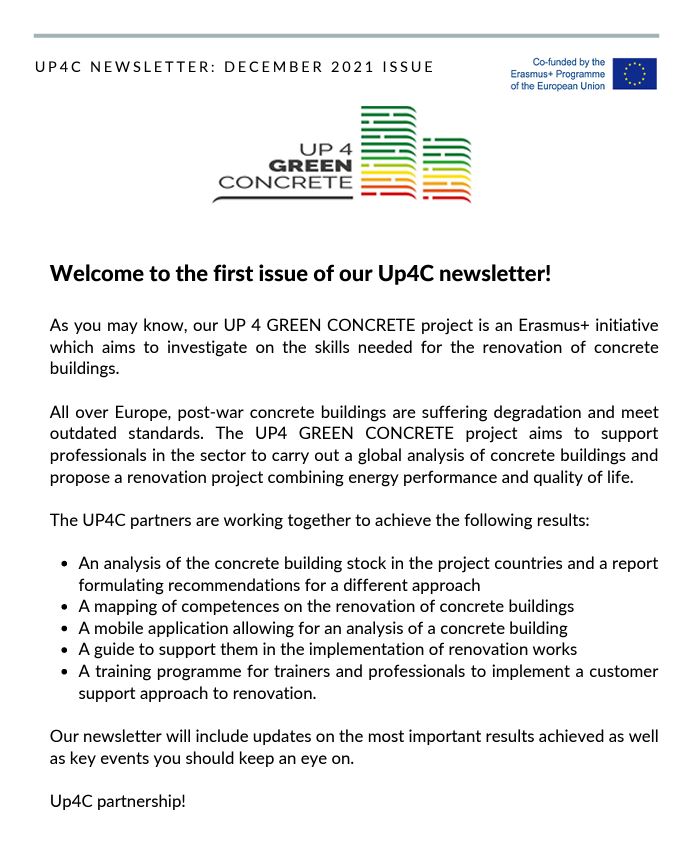 As you may know, our UP 4 GREEN CONCRETE project is an Erasmus+ initiative which aims to investigate on the skills needed for the renovation of concrete buildings.
All over Europe, post-war concrete buildings are suffering degradation and meet outdated standards. The UP4 GREEN CONCRETE project aims to support professionals in the sector to carry out a global analysis of concrete buildings and propose a renovation project combining energy performance and quality of life.
The UP4C partners are working together to achieve the following results:
An analysis of the concrete building stock in the project countries and a report formulating recommendations for a different approach
A mapping of competences on the renovation of concrete buildings
A mobile application allowing for an analysis of a concrete building
A guide to support them in the implementation of renovation works
A training programme for trainers and professionals to implement a customer support approach to renovation.
Our newsletter will include updates on the most important results achieved as well as key events you should keep an eye on.
Up4C partnership!
UP4GreenConcrete Report has been published!
You can read the full report, translated in all the partnership languages, English, French, Greek, Italian, Polish and Estonian.
The report is a comparative analysis of the situation concerning the renovation of concrete buildings in each partner country. The survey includes various topics, thermal renovation, upgrading to standards related to energy efficiency, adaptation to lifestyles, air quality and health.
Are you interested in learning more? You can download the report in your language here.

First Transnational Project Meeting
On November 3rd and 4th, the first Transnational Project Meeting took place in Paide, Estonia, hosted by our Estonian partners JHKH. The meeting was held both in person and remotely.
ERASMUS+ UP 4GREEN CONCRETE future meetings and activities
The aim of the transnational meetings is to prepare and monitor project activities; to build a team and generate mutual trust; to discuss the work undertaken, including quality standards and dealines; update partners on the work process; review tasks and undertake future work plans; meet local stakeholders.
Next transnational meeting will take place in Greece in June 2022.
Four days short term joint staff training activity will take place when the training materials are complete.